GPS navigator with digital TV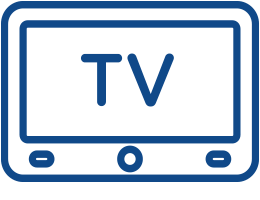 For a rental experience with no problems, Maggiore provides a little hi-tech miracle: the new Moov Spirit TV navigation system. It not only includes advanced navigation technology with IQ Routes ™ and full European maps, but is also a fully functioning digital television with access to hundreds of digital channels in the clear.
Perfect for family outings, holiday trips, or camping sites, the V575 TV lets you find the destination of your choice quickly and easily.
No matter where your Maggiore vehicle takes you, you can sit back and switch over to digital TV to enjoy local and national channels in the clear.
Thanks to its integrated media player you can also watch a movie or maybe, if you prefer, listen to music.
Of course Moov Spirit TV also offers outstanding navigation features, including IQ Routes™ for locating traffic congestion and avoiding it during peak hours.
Other powerful features include 3D Junction View for clearer guidance at intersections, and TruMap™ maps.
4.7-inch colour touch screen - built-in TMC Receiver - SiRFprima with InstantFixII - 600MHz processor - TV antenna - Car charger with integrated TMC antenna.
The GPS navigator can be reserved online at the same time as renting the car.