Our History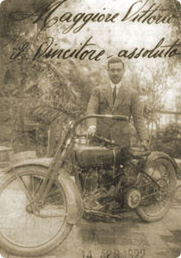 The Maggiore family has always had a deep-seated passion for cars and motorcycles. Already in the 1920s Vittorio Maggiore, born at Ali in the province of Messina in Sicily, distinguished himself by successfully participating in Sicily's most prestigious road races, winning the coveted Targa Florio in 1924 on his trusty two-cylinder Harley Davidson.
Realising that cars could become an opportunity for business investment, in 1947 he set up Italy's first self-drive car rental company with his sons Giuseppe and Francesco. The results were not slow in coming, and Vittorio's winning intuition led to success.
The company was, until 2014, the largest 100% Italian-owned firm operating in the short and medium term car and commercial vehicle rental market, deriving its strength from the spirit of family entrepreneurship that characterised our development over the decades and which continued right to the third generation of the family: a record of which very few Italian companies can boast.

Over Maggiore has developed an ever-expanding network covering the whole of Italy; today, we have 146 agencies, of which 127 also offer van rental, with an average fleet of over 14,000 vehicles.
In April 2015 Maggiore was bought by the Avis Budget Group, a world leader in the short term car hire market.